Are You Facing a Divorce?
Divorce Attorney in Buffalo, NY
Over 40 years of experience handling high asset divorce matters in NY State
When faced with the emotional and financial uncertainty of divorce, you need and deserve a tough, aggressive, and respected Buffalo divorce lawyers to stand up for you and protect your rights.
You could lose everything, the custody of your children, your financial security, and your dignity!
"I told him my concerns and what I wanted to see at the end of my divorce. He was extremely professional and honest. Told me where I would have to fight and gave me the knowledge I needed to make the right decision." - Former Divorce Client
Armed with Over 40 years of experience handling complex, high asset divorce and custody matters, the Buffalo divorce lawyers at The Rossi Law Firm are ready to aggressively protect your custodial and financial rights and help you achieve the best possible result, based on the facts and circumstances of your case.
Put our legal experience to work for you!
Walk into that NY courtroom with confidence knowing "You are represented by Rossi!"
When Should You Contact a Divorce Lawyer?
You should contact a divorce lawyer when you realize your marriage is ending. If you and your spouse are fighting constantly, growing apart, or see other signs your marriage is not doing well, you should reach out to a divorce lawyer as soon as you can for support and guidance.
We care about you and how your case is resolved as much as you do! Call (716) 854-5555 today to learn how our divorce attorneys in Buffalo, NY, can help.
Why Should I Hire a Divorce Attorney in Buffalo, NY?
Custody of Your Children - Custody is often the most difficult issue to resolve in any divorce due to the emotional aspect of such a decision.

While most cases in Buffalo, NY are resolved without a full-scale custody trial, your case will be thoroughly and meticulously prepared in the event an agreement is not reached and a trial is necessary.

While we will do everything possible to avoid the expense and emotional impact of a custody trial, our Buffalo family lawyer will aggressively protect your custodial rights in the NY courtroom, if necessary!
Your Financial Security - Divorce is complicated! New York is an "Equitable Distribution" state, when it comes to dividing the assets acquired during your marriage.

Often times, it is necessary to aggressively and relentlessly pursue the location and value of marital assets, particularly if you are not the one in control of the finances of your marriage.

Buffalo divorce attorney Michael Anthony Rossi has the necessary legal experience and expertise to ensure that your financial security is protected.
Because any of these issues or complexities can arise in high net-worth divorces.
To handle these complex issues on your behalf, you need an experienced and aggressive family law firm to help navigate the intricacies of your financial situation.
Armed with Over four decades of divorce trial experience, the Buffalo divorce attorneys at The Rossi Law protect the interests of individuals in all types of family law cases, including complex, high net-worth divorces.
Contact The Rossi Firm today to speak with our experienced Buffalo divorce lawyers.
What Are the Grounds for Divorce in Buffalo, NY?
Since New York became a "no-fault" divorce state, there is rarely a case filed on fault grounds. In NY State, fault in not a factor in how assets are divided in almost all cases.
Most parties would rather avoid airing all the "dirty laundry" of their marriage and focus on the custody and financial issues.
A party can either pursue a no-fault or a fault-based divorce.
To obtain a no-fault divorce, one spouse will need to state, under oath, that the marriage has broken down "irretrievably" (beyond repair) for at least 6 months.
You will also need to show that all divorce-related matters, including property division, child custody, spousal maintenance, and child support have all been resolved.
You can achieve this with your spouse in a settlement agreement or with a court order after a trial or hearing.
To seek a fault-based divorce in New York State, you will need to prove one of the following grounds:
Adultery
Abandonment for at least 1 year
Incarceration for at least 3 consecutive years after marriage
Cruel and inhuman treatment (such as physical or mental abuse)
Fault-based divorces in Buffalo, NY are usually more contentious, and often times far more expensive to litigate because you will have to prove your fault grounds.
As such, it is advisable to consult with an experienced divorce attorney to decide how best to proceed on your behalf.
---
Uncontested Versus Contested Divorce
At the start, all divorce cases are "contested."
Only after the parties come to an agreement on all issues associated with their divorce case, both custody (if a minor child) and financial, does the case become "uncontested."
Conversely, if the couple disagrees on one or more issues, the case will continue as a contested divorce and proceed to a trial if an agreement cannot be reached during the litigation process.
---
How Is Divorce Different for Individuals with a High Net Worth?
High net worth divorce cases involve significant assets.
These assets generally involve real estate, stocks, bonds, businesses, retirement accounts, large bank accounts, investments, etc., which will need to be identified, valued, and divided in a separation.
High net worth divorces are complicated and often require the services of a forensic accountant.
As there are more assets involved, these cases often take longer and require more work to finalize.
Here are some examples of the issues in a high net worth divorce:
Business interests and assets
Substantial separate property claims
Pensions or other retirement assets
Dividing multiple properties and other valuables
High asset 401(k) accounts
Determining child support and spousal maintenance
It is important to consult with an attorney experienced in handling high asset divorce cases to best prepare yourself for the process.
These cases often require additional steps such as business valuations, asset appraisals, as well as uncovering hidden assets.
You need and deserve an attorney in Buffalo capable, qualified, and experienced in high asset divorce cases to protect your financial interests.
---
Choose The Divorce Lawyers Serving Erie County NY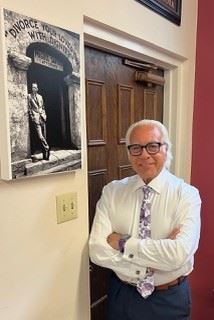 The Buffalo divorce attorneys at The Rossi Law Firm are skilled negotiators who help you obtain the best possible settlement while preserving amiable relationships in your family.
However, there are times when unreasonableness and irrationality prevent a settlement and the New York courtroom is our only option.
Erie County's own Michael Anthony Rossi approaches every family case with the expectation that it is going to trial.
By always being ready to go to trial, they often negotiate from a position of strength and can negotiate a more favorable outcome.
Hiring the wrong Buffalo family lawyer could make a very bad situation worse.
Before you hire any Buffalo family law attorney, check the lawyer's professional ratings and client reviews. We are proud to display ours right at the top of our webpage.
At The Rossi Law Firm, our law office cares about you and how your case is resolved as much as you do!
The Buffalo divorce attorneys at The Rossi Law Firm are available any time to discuss your case. Contact us today or call (716) 854-5555 to speak with an experienced trial lawyer serving Erie County, NY. It may be the most important call you will ever make!
Don't Just Take Our Word For It
See For Yourself What Past Clients Have to Say About the Rossie Law Firm's Service
"Excellent Services"

Mr. Rossi and his team are professional, attentive, efficient, and thorough from the get go. The efficiency in communication ...

- Former Client

"I couldn't of been more satisfied"

I chose the Rossi Law Firm to represent me in a personal injury case and I couldn't of been more satisfied with the work they ...

- Mike A.

"Professional Attorney"

I used the Rossi Law Firm to represent me in my divorce case. Mr. Rossi was very knowledgeable and professional. He took the ...

- Former Client

"Would recommend to even my closest family and friends!"

I could not have made it through my lengthy divorce and child custody issues without Mr. Michael Anthony Rossi and his entire ...

- Laura

"Very Kind and Understanding"

Well experienced on personal injury case we collaborate on to help their client receive the medical needs in monetary ...

- Darryl H.

"Ethical, Efficient, Professional and Highly Skilled and Knowlegeable"

Outstanding quality legal representation. Worth every penny. The epitome of what an attorney should be: ethical, efficient, ...

- Jason M.

"Highly recommend!"

They took great care of me! Highly recommend!

- Paula U.

"Mr. Rossi and the Rossi Law Firm will do all they can to help you."

Mr. Rossi and the Rossi Law Firm are head and shoulders above all others. Mr. Rossi never promised that we would win our ...

- Chad F.